Bui Huu Anh

Leasing manager

Nguyen Tuan Vinh

Senior consultant

Nguyen Duc Thinh

Senior consultant

Nguyen Thi Hien

Senior consultant
Experience of renting an office in Hanoi
Maison Office believed, with the basis of partners of all office buildings for lease grade ABC in Hanoi, with 10+ years experience in office leasing consultancy has accompanied thousands of businesses in the process of renting offices.
Maison Office is solid partner and will help you quickly find offices space that meet the maximum usage requirements with the most favorable rent and rental conditions.
Instead of taking a lot of time to search, contact and work directly with buildings, you just need contact to Maison Office and share us your demand.
We are committing to help you renting office with suitable choices, an also affordable price in best renting conditions.
Overview of offices for rent in Hanoi
Offices for rent in Hanoi are widely distributed throughout the districts, with the most concentrated office rental options in Cau Giay district. Next is Hoan Kiem, Dong Da, then other districts.
Offices in Hanoi Zone Map
According to geographical criteria, the supply of offices for rent in Hanoi can be divided into three main areas:
1: Old central area – Including Hoan Kiem and Hai Ba Trung districts.
2: Area of Dong Da and Ba Dinh districts – Central area geographically.
3: Western area – Cau Giay District, Nam Tu Liem.
4: Other districts Thanh Xuan, Hoang Mai, Tay Ho, Ha Dong, Long Bien all have office buildings, but not many are popular buildings of class C and C-
Information office in the old central area: Hoan Kiem , Hai Ba Trung district
Office buildings in the central area in Hoan Kiem and Hai Ba Trung districts have a higher price level, lower vacancy rates than other districts in Hanoi.
In recent years, the new office supply in this area is got a grade A building is Thaiholdings Tower. Meanwhile, the need to locate in the central district to facilitate transactions, as well as affirming the brand of businesses is always high.
Hoan Kiem and Hai Ba Trung are also commercial, service and tourist centers of Hanoi capital. Therefore, the demand for renting real estate for shops, hotels and service facilities is also very high. Along with the reason of limited supply, this is an indirect cause, but has a significant impact on office rent.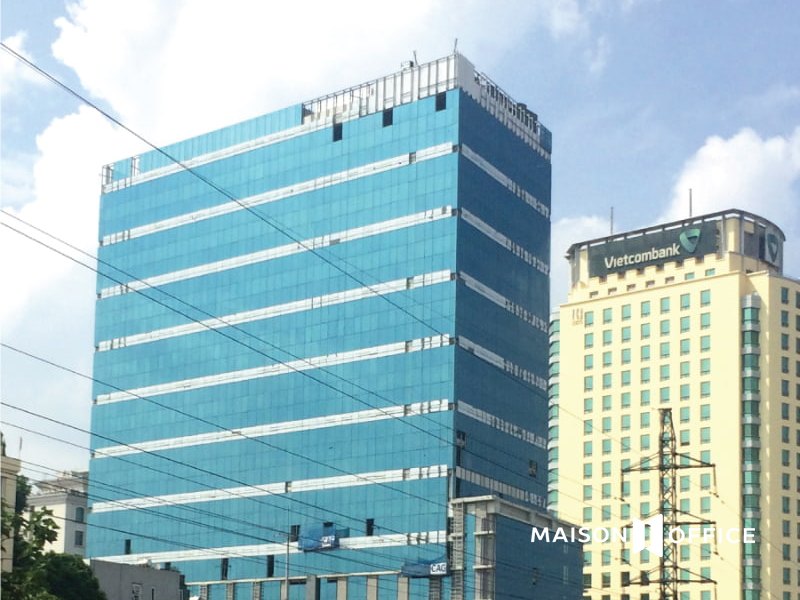 Thaiholdings is newest office building in Hoan Kiem district
Office buildings for rent in Dong Da and Ba Dinh districts:
In terms of geographical distance, the office buildings located in Dong Da and Ba Dinh districts are the most central location, very suitable for businesses that need to rent offices in Hanoi that their partners spread evenly in all districts of the city.
The streets gathered many office buildings including Lang Ha, Thai Ha, Kim Ma, Lieu Giai and Doi Can. Popularly, Grade B, C and C- office buildings, there are 2 A-rated buildings, Lotte and Daeha Business Center.
At the same level of construction, finishing and equipment, the buildings in Dong Da and Ba Dinh have prices about 10% lower than the buildings in Hoan Kiem and Hai Ba Trung.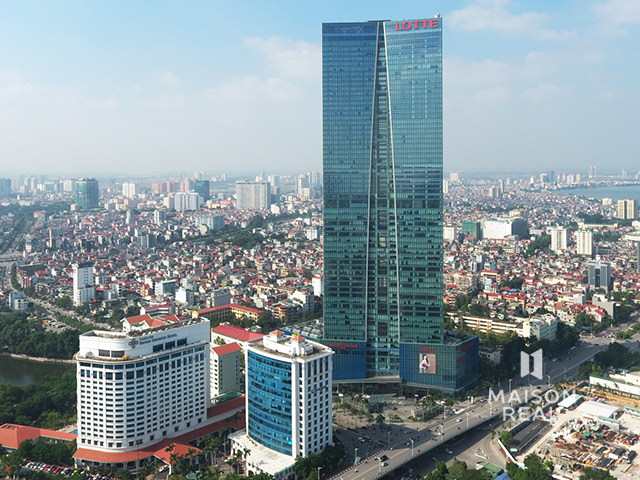 Lotte is one of icon in Ha Noi
Office buildings in Cau Giay District & West Hanoi area
The western area of ​​Hanoi (Cau Giay and Nam Tu Liem) is the place with the strongest development in the last 5 years, most of the buildings are completed and put into operation after 2010. This is an area with synchronous development of infrastructure, roads are widely traffic and less traffic congestion than central districts.
The western area is the home of the Korean, Japanese and the largest foreign community in Hanoi. Commuting with agencies and companies in the old central area will take more time, but in return, the businesses located in the western region are easy to connect to the inter-provincial roads. , airports and industrial parks.
If you find an office for rent in Hanoi, there are some characteristics: Newly built, spacious roads, near new urban areas, easy access to the northern provinces and industrial parks, with a level reasonable rent. Then the western area (Cau Giay, Nam Tu Liem) is the most suitable!
In addition, there is also a number of offices for rent in the podiums of apartment buildings. The office rental options in this apartment are mainly concentrated in the western districts such as Cau Giay, Nam Tu Liem and Thanh Xuan.
Office rental price in Hanoi
Rental price for Grade A offices in Hanoi
Office for rent Grade A in Hanoi has rental rates from $25 / m2 to $50 / m2 / month. Grade A office buildings in Hoan Kiem and Hai Ba Trung areas have higher rents from 30USD to 50USD / m2 such as BIDV Tower, Primer Building, Hanoi Central Office Building, Pacific Place, Sentinel Place Building …
Buildings at Cau Giay & Dong Da have more attractive prices such as: Keangnam or TNR with prices from $ 25 or Charmvit Tower for only $ 20.
Rental price for Grade B offices in Hanoi
Grade B office for lease accounts for a large proportion of the office leasing options in Hanoi. Evenly distributed, With an average price of 15 usd/ m2 – 25 usd / m2 / month and office floor area of ​​choice. Grade B office for lease has extremely many options for businesses.
Rental price for Grade C offices in Hanoi
Grade C office for rent in Hanoi has many options and prices. Among the rental offices rated C there are quite a lot of options that are apartment buildings.
Depending on the location and quality of buildings that Grade C office for lease is priced from 10 usd / m2 / month.
How to find suitable office in Hanoi quickly?
Use our Office filter to find suitable office quickly or browse to the district you want to put your new office in:
In the fastest way: Contact Maison Office to get free advice and information of all office buildings.